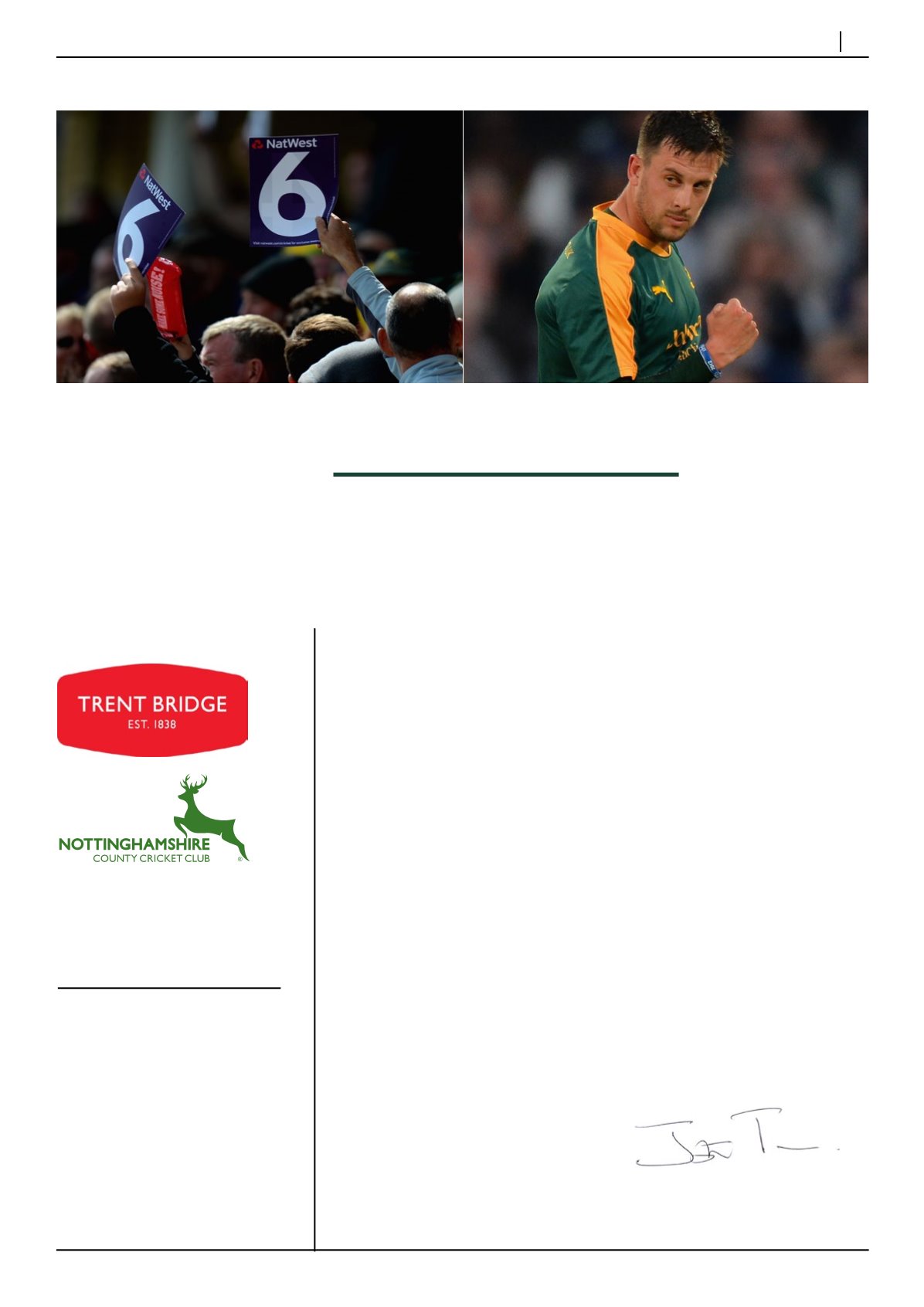 As the Notts Outlaws embark on
their 14thT20 campaign, the off field
team will as ever be rooting for Mick
Newell and the team, as they aim
to turn their impressive tournament
record into a finals day appearance.
Dan Christian, the Outlaws' newly-
appointedT20 captain, will aim to
offer explosive entertainment during
this year's competition.
We also remain determined to ensure
that the experience of a matchday
at Trent Bridge begins from the
moment you arrive, right through to
the post match autograph signings
(and selfies) that now characterise the
NatWest T20 Blast in Nottingham.
With that in mind, we are adding
a cricket activity zone on the TBI
Courtyard, allowing spectators of
all ages and abilities to have a go
at batting, bowling, catching and
throwing throughout the event.
The Courtyard is perfectly positioned
directly behind what will, for the first
time in 2016, be our alcohol-free
family area, theWilliam Clarke Stand.
With freestyle entertainers, catering
units and distribution of a range of
giveaways from the giant helmet, the
carnival atmosphere in and around
that area before the match will be well
worth sampling.
Making these occasions more
Welcome
Covered is published by
Nottinghamshire County
Cricket Club Limited.
Registered in England.
Company Registration Number
IPS 28978/R
Editor / David Straw
david.straw@nottsccc.co.uk
Deputy Editor / Tom Holdcroft
tom.holdcroft@nottsccc.co.uk
LeadWriter / Dan Robbins
daniel.robbins@nottsccc.co.uk
Images / Karl Bratby (cover),
Getty Images & Archive
2 3
enjoyable for families is a key factor
in continuing to grow our NatWest
T20 Blast audience, building on the
success of 2015 when we attracted
13,582 for the match against the
Derbyshire Falcons.
We all remember the last-ball victory
fondly, but the entertainment began
long before that, when, 90 minutes
prior to the start of the game, the
match production got underway.
Centred around the big screen - but
also including music, interviews and
team news featuring Colin Hazelden
as MC - our pre-match entertainment
is a key reason why supporters are
choosing to arrive progressively earlier
with each passing summer.
The build-up will climax with a
showing of Cricket Has Landed 3, the
concluding instalment in our trilogy
of promotional videos.
Jake Ball, Steven Mullaney, Riki
Wessels and SamWood have starred
in the production this year, which
will, again, be a terrific asset to our
marketing team as we aim to further
strengthenT20 cricket's position as
Nottingham's firm fixture for Friday
nights.
JustinTose, Commercial Director