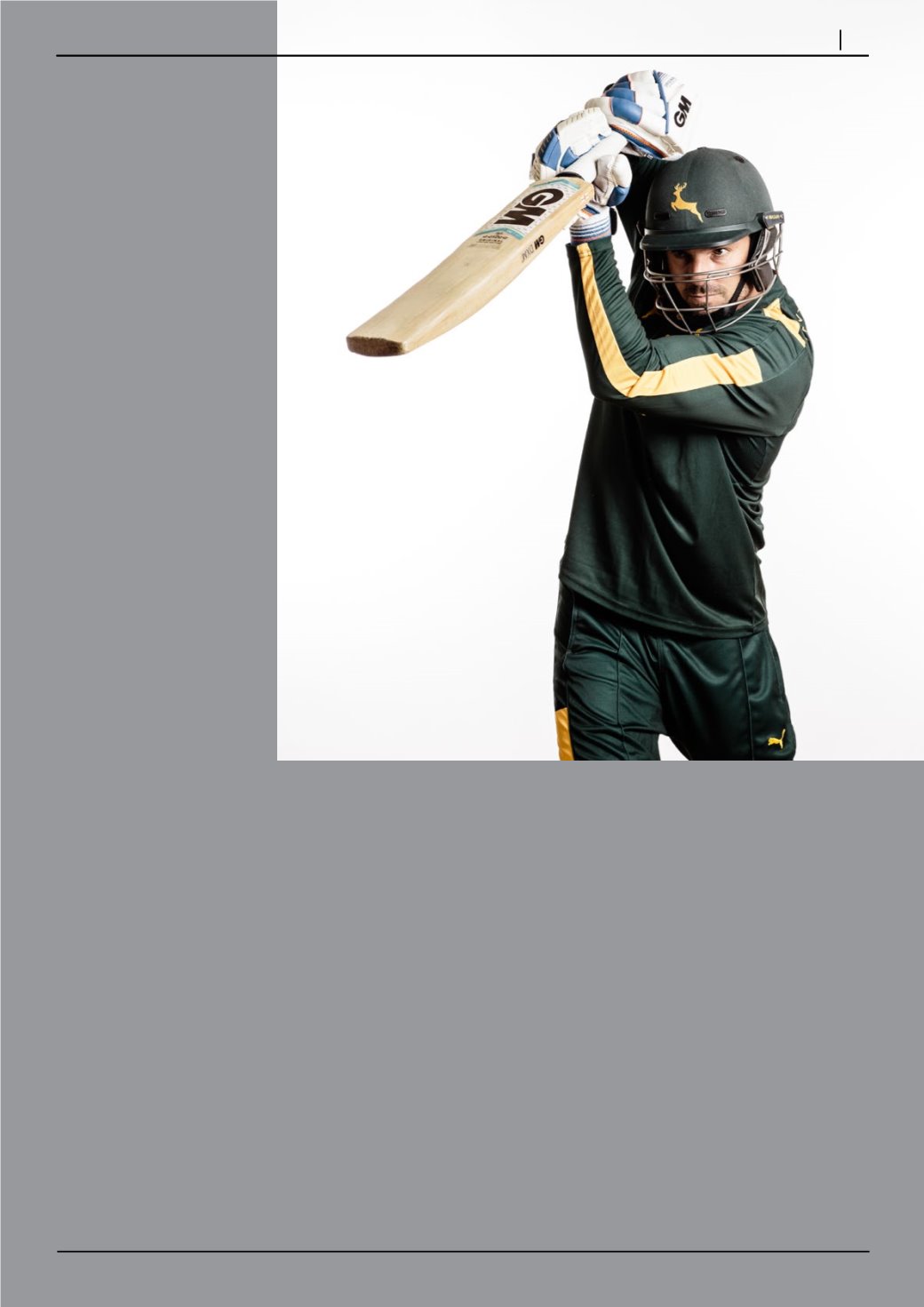 "Playing with, and against, big name
players gives you a good indication
of where you're at as a professional.
You don't often get the chance to face
Chris Gayle and Brendon McCullum
outside of international cricket.
"When you bowl against those
sorts of players, some of the best
in the world, it sort of gives you an
indication of where your game is at."
In terms of an indication of where
Jake's game is at, he may be closer
to facing off against the headline-
grabbers with three lions on his chest,
rather than the Outlaws' stag.
A series of eye-catching red ball
displays have put him in contention
for England's Test squad for the
upcoming series against Sri Lanka,
but it was cutting his teeth at Trent
Bridge in white ball cricket that set
him on his way.
"I enjoy bowling the big overs and
thrive on taking the ball and trying to
get the best batsmen of the opposition
out," he says.
"The game here against Derbyshire,
they needed 20-odd off two overs, a
high pressure situation that I enjoyed
being involved in.When you come
out on top of those sorts of battles it
makes it even better."
Not a man unfamiliar with cricketing
battles, Lumb, together with his
long-standing opening partner Hales,
has been at the forefront of Notts
Outlaws' fortunes in white ball cricket
for a number of years.Their pairing
has been the destructive platform for
a number of memorable victories.
While Hales has grabbed the
headlines, Lumb is often the catalyst
for the innings, renowned for going
hard from ball one. It's a tactic that
has reaped its rewards, and caught the
imagination of the fans in the stands.
"I'm flexible in my approach, it
depends how I feel on the day," he
downplays, beautifully.
"I've certainly got my plans to
execute, but there's no set way of
going about it. Some days I can go
hard from ball one, some days I have
a look and take my time.
"It depends on the match situation. If
my fellow opener, say Alex Hales, is
4,631
124*
27
24
Twenty20 runs
T20 high score
England T20I
appearances
T20 fifties
10 11