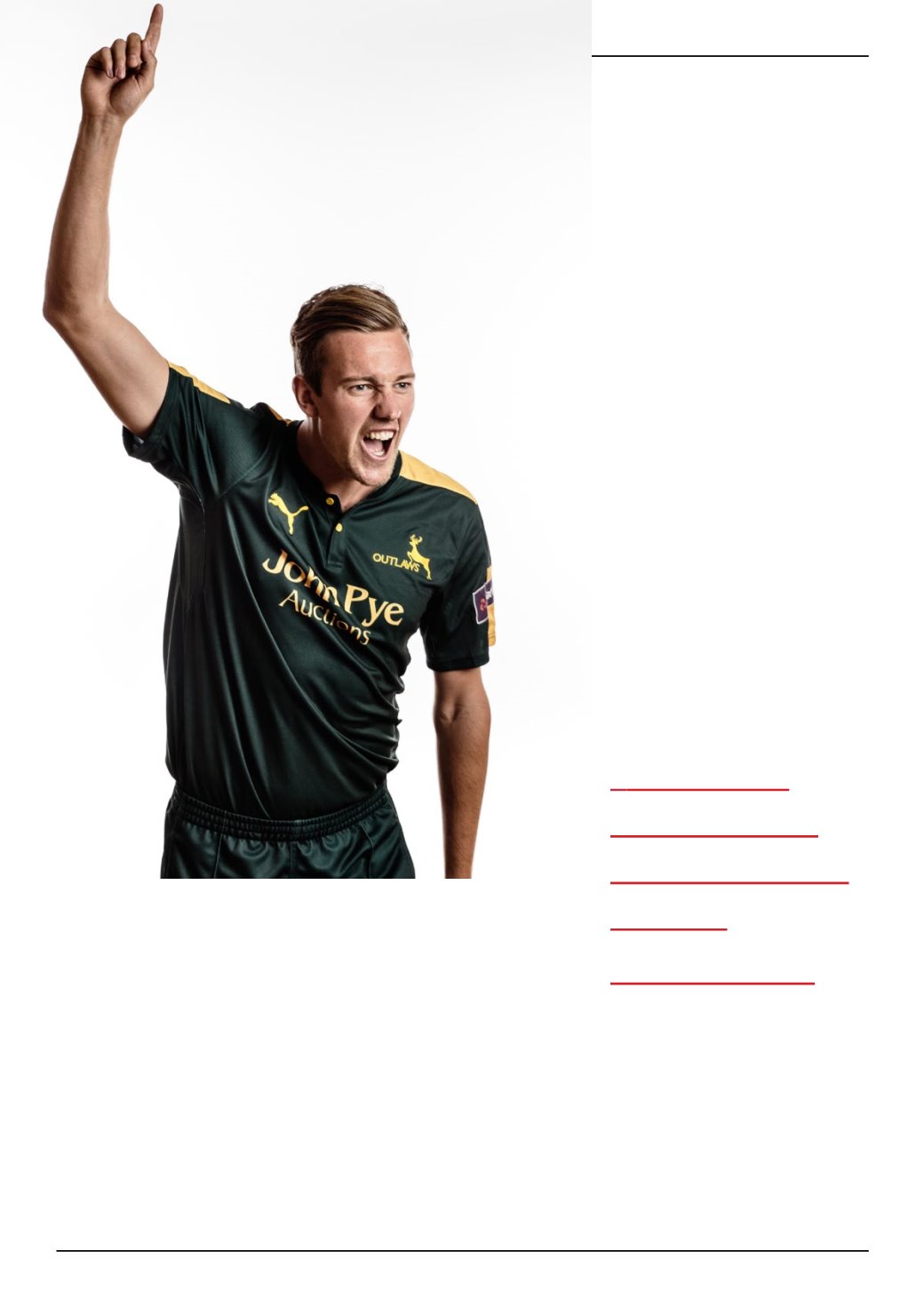 COVERED
"
There's
always a
little extra
spice
involved."
Lumb on Derbies
T20 cricket, Jake Ball's beginnings
provide a more humble contrast.
Breaking first into the Notts Outlaws
side in 2013, capped by an impressive
4-13 against Somerset to propel his
side to theYorkshire Bank 40 final, he
has gone from strength to strength.
Now spearheading the county's attack
across all formats, Ball's development
has been under the constant gaze of
the Nottinghamshire Members and
supporters at Trent Bridge, and he's
under no illusions as to the value of
the voracious backing they offer.
"Huge home support gives the team a
massive boost," he says.
"The crowds are really good here,
we were the best outside of the
two London Clubs last year for
attendances and having the support
of everyone really does give the lads a
massive boost.
"We didn't have the best tournament
last year but everyone kept getting
behind us and still came toTrent
Bridge.We
thank them for that and
hope they can keep coming this year.
"It's massive to get people in early,
if we can get as many families as
possible down here, they're the future
of the
Club.We
need to keep building
Notts' fanbase and hopefully turn
them into die-hard cricket fans, and
Members here at Trent Bridge.
"I think over the last few years with
the IPL and the Big Bash, people see
T20 cricket more as a big spectacle
now, players could have a separate
T20 career travelling around the
world.
"It gives a route in for the younger
cricketers, when it was first
introduced that was the case.
"T20 was seen as the lesser of the
competitions but now it is taken
extremely seriously from a player's
perspective. It is probably one of the
highlights of the season, just for the
sheer number of people who come to
Trent Bridge to watch it.
"It gives them great exposure in
playing in high pressure games as
well," he says.