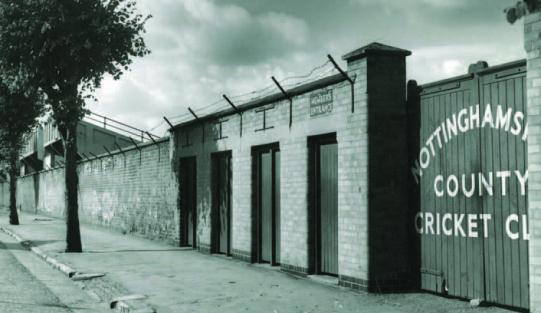 Frank Woodhead introduced two other
innovative ideas during the winter, both
of which came to fruition. Off the field he
created the Nottinghamshire Old Players
Association. They held their first annual
dinner in theTrent Bridge Hotel that winter.
John Gunn was appointed as President. He
was at the time the only surviving 19th
century Notts cricketer, having made his
debut back in 1896. Gunn had toured
Australia with the England team, played
in six Tests as an all-rounder; his County
career lasted until 1925 with 489 matches.
His final first class match took place in
1930, when he was 53. He did not have far
to come for the Old Players Dinner, living
round the corner in Edward Road.
Under his bed he housed his collection of
Wisden Almanacks and when unable to
sleep he studied the match scores of his
glory days. Those very Wisdens are now
held in the library at Trent Bridge, battered
as they are by years of usage.
Woodhead's other innovation was on the
playing side. He raised a team of young
hopefuls, who, under the title, Notts Colts,
applied and entered the Notts Amateur
League for 1962. It was unfortunate that
not all local clubs agreed with this idea and
the Colts side was not as strong as it might
have been – they finished their first season
in the middle of Division Two. Woodhead
At County level, Nottinghamshire agreed
to join with Leicestershire, Derbyshire and
Northants in a revolutionary pilot scheme of
One Day Limited Overs cricket. The main
architect of the scheme was Mike Turner,
the Leicester Secretary.This mini knock-out
tournament was arranged for the beginning
of the 1962 season – if it succeeded it might
be adopted by all the first-class counties –
then who knows what might spring from
it. Of course, we do know and for better
or worse, One Day Limited Overs matches
are now a major part of the fabric of
international as well as county cricket.
Nottinghamshire's first match in this knock-
out contest took place at Trent Bridge on
May 2, 1962. The team were led by a new
captain, the Oxford University fast bowler,
Andy Corran and he decided to put the
opponents, Northants in to bat. It appeared
a wise move as the visitors collapsed to
75 for six at lunch. The formidable 'Billy
Bunter' of England cricket at the time,
Colin Milburn, survived 15 minutes for a
John Cotton, Nottinghamshire's fast bowler
from Newstead Colliery went in to lunch
with figures of 9-2-12-3. The match was 65
overs per side - 130 in the day. The threat
of being sent down the pit certainly insured
spectators got their money's worth!
Northants' total ended at 168 for nine.
Notts began in great style. Geoff Millman,
the Notts opener and the England Test
wicket-keeper scored 60. However all his
colleagues failed and it was left to dear old
Bomber Wells, the last Notts batsman, to
cheer up the evening crowd by hitting a four
and two sixes off JimWatts' final over -Notts
The match finished and the crowd rushed
across Trent Bridge to enjoy the evening
soccer match at Meadow Lane – Notts
County v England. It was arranged to
celebrate the 100th anniversary of the
League's oldest football club. County lost
3-1. As County fans already know, Notts
will welcome Italian giants Juventus for
their 150th anniversary fixture.
from left: John Cotton; an exterior
shot of trent bridge from the 1960s