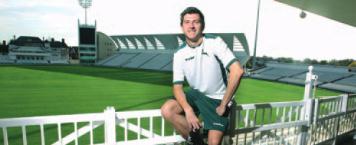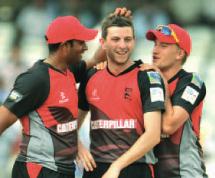 is to impose myself in the
that I have a lot to offer
to have hit the headlines for his Twenty20
A leading light in Leicestershire's charge towin
the Friends Life t20 last season, the left-arm
paceman suffered an untimely injury to rule
him out of finals day at Edgbaston. Gurney
has a remarkable bowling average of 19.50 in
domestic Twenty matches - marginally better
than that of Graeme Swann – having taken 38
wickets in 30 matches ahead of his move from
He recovered to play a part in the Foxes'
Champions League campaign and hopes to
make his mark in all formats.
"It was a strange season at Leicestershire
because we struggled in the Championship
but we were a real force throughout the
Twenty20 competition," said Gurney who
played club cricket for LoughboroughTown
before graduating Leicestershire's academy
ranks. We prepared well and I had my
variations well drilled and I was confident
in using them in any situation. "It was the
highlight of my career so far and one I hope
Gurney recovered to play a part in the early
stages of the Champions League and hopes to
return to the most prestigious competition in
club cricket with Notts whilst pressing his case
for significant involvement in the club's LV=
County Championship campaign.
"An ambition of mine is to impose myself in
the four day arena because I felt aggrieved at
Leicester not to get a real opportunity because
I feel that I have a lot to offer with the red ball.
Hopefully I can prove that early in my time
here and hold on to a spot in the team."