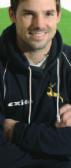 is neither the first nor the last
cricketer to sustain a serious injury during an
The football warm-up, a well-established
method of getting a county squad out of the
pavilion on time, has also caused Joe Denly,
James Anderson and Steve Harmison to miss
matches whilst Lumb's seasonwas endedwhen
he sustained ankle ligament damage in July.
His rehabilitation is well on track and having
spent a few weeks getting to know his
new teammates following his switch from
Hampshire, Lumb is raring to go.
"It was a tough year for me particularly
because the injury which came at a time
when I was just getting back into the England
setup but I'm over it now and I can't wait to
get back on the field," said the ICC World
Twenty20 winner. "I rolled the ankle badly
and ruptured three ligaments but I've still got a
lot to offer and that's thanks to the physios and
the surgeon who have put it back together."
Injury gave Lumb, a veteran of 8 Twenty20
Internationals, an opportunity to reflect on
his domestic arrangements and he opted for a
Discussions with Nottinghamshire Chief
ExecutiveDerekBrewer andDirector ofCricket
Mick Newell paved the way for the former
Hampshire andYorkshire batsman to move to
Trent Bridge, the scene of his career best first
class innings of 219, a knock that effectively
ended Notts' LV= County Championship
because the setup is so good and I wanted to be
part of it," he said. "The ground is renowned
for the ball swinging around and a few guys that
have played in the top order have struggled a
little bit but I've had to copewithbowler-friendly
conditions during my time at Headingley and
the Rose Bowl so it's not new to me.
"The players, the coaches and the support
staff are in place here and the club as a whole
has a winning culture and is geared up to win
trophies. Nottinghamshire is the kind of club
that players want to be a part of so when I
heard there was some interest it became a no-
brainer and I jumped at it."
Having lost Ali Brown and Mark Wagh
last season, Nottinghamshire continue to
pursue another English batsman to bolster
the ranks whilst discussions with a potential
overseas player are ongoing. The emergence
and re-emergence of Alex Hales and Samit
Patel respectively could leave Notts lacking
at certain stages of the season and Lumb is
buoyed by talk of further recruitment.
"I know there is talk of further signings in
the batting department and if they come off
then we could have a real powerhouse line-
up," he said. "I want to open the batting in
one day cricket because I can be destructive
at the top of the order and then I can slot in
at three or four in the Championship. I think
my technique can survive the swinging ball
that Trent Bridge is renowned for so, fingers
crossed, I can make an impact."
Lumb's clout in limited overs matches has
earned him an enviable reputation on the
lucrative Twenty20 circuit. He attracted an
$80,000 bid from Deccan Chargers who
have secured his services for next year's
Indian Premier League whilst commitments
to Sydney Sixers in Australia's Big Bash will
excuse him fromNottinghamshire's off-season
training until mid-February.
"If I was in the England squad then things
might be a bit different but this break from the
international stuff has given me a chance to
play in some bigTwenty20 competitions which
is something I really enjoy," said Lumb, whose
IPL teammates include Kevin Pietersen, Dale
Steyn and Kumar Sangakkara.
"Twenty20 matches are short and sharp and
the big bash is only seven games so I don't
find it physically demanding. The format
has become very popular and provided good
opportunities but the Championship is very
important to me and Nottinghamshire will
be my home. Even when I've had success
in Twenty20 cricket I've always retained a
passion for the four-day game and I'm looking
forward to pulling my whites on and hitting
the red ball. It's the purest form and I want to
Now 31, Lumb still has a burning desire
to play international cricket and Twenty20
internationals provide the most obvious path.
His boundary-laden efforts at Hampshire (he
once hit 35 from 11 balls in a 5-over game
againsy Kent) established his reputation and
he feels that the Outlaws can mount a credible
"A full-strength Notts side would be favourites
to win the Twenty20 competition and even
though availability will be a factor, even with
the players that will be regularly available it is
mouth-watering," he said. "The first step is to
get back on the field and play some games but
it will be my scores that tell the selectors what I
can do. Hopefully they'll show some faith and