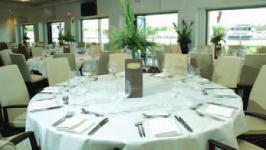 Nottinghamshire's Head of Business
Development Mark Worrall says that a series
of events hosted at Trent Bridge have proved
the renovation of the Radcliffe Road Stand to
Virgin Media, Boots, Fisher Scientific and
Invest in Nottinghamshire have all hosted
prestigious events in the Boundary's Edge, the
centrepiece of the upgrade of all event spaces
in the stand which also provide pitch-view
hospitality on match days.
"Our ongoing aim is to make the business
community aware that we are open for business
year-round and our function rooms are not
simply hospitality boxes used six days a year
when England play here," he said.
"We can seat 230 people for dinner, provide
a stunning room for a board meeting and
everything in between so it's nice when
companies come to us with a challenge."
The backdrop of Trent Bridge has proved a
strong selling point for the facilities as the
club seeks to win business in a competitive
To book a hospitality experience, wedding or
event at Trent Bridge, call 0844 8118710, email
events@nottsccc.co.uk or visit www.trentbridge.
Train like an Outlaw at ROKO Nottingham
continue to train at ROKO following a deal
to extend the partnership between theWilford
Lane Health Club and the club.
The squad make use of the club's indoor and
outdoor pool for recovery sessions and train
three times per week on the club's fitness floor.
Visit www.roko.co.uk/nottingham-gym for
membership package details.
PKF apprentice scheme given second term
Official Club Sponsors PKF have
extended their support for an innovative
scheme that provides work experience for
young people aspiring to begin a career in
The club recruited six apprentices last season
who assisted in the delivery of the club's
award winning community programmes.
"We view the apprenticeship scheme as a
natural extension of our support for the club,"
said PKF Partner Paul Ellis.
"I am delighted that the club's community
work was acknowledged as a key driver in
the club's successful bid to stage Ashes Tests
and I am delighted that the partnership
between PKF and Nottinghamshire has been
strengthened by this innovative scheme."