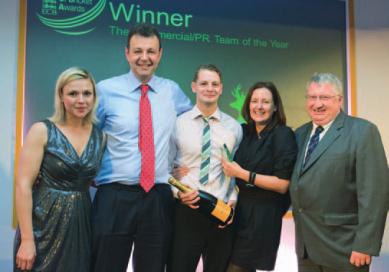 Nottinghamshire County Cricket Club
have re-affirmed their commitment to
groundbreaking community projects after
securing the Best Community Programme
Award at a prestigious London ceremony
for the second successive year.
Judges heaped praise on the club's Positive
Futures scheme which beat off competition
from Derbyshire, Essex and Durham to
The club were also handed the award for
Best Media Management and scooped
Commercial & PR Team of the Year at the
ECB Business of Cricket Awards to cap an
impressive list of accolades in the wake of a
successful bid to host Ashes Tests at Trent
"Positive Futures has been hugely
successful in tackling juvenile crime and
anti-social behaviour in Cotgrave and we
are delighted that the impact that it has had
on the lives of so many young people has
been recognised with this award," saidTrent
Bridge Community Sports Trust Manager
"We have worked very hard to establish a
meaningful community programme that
goes beyond the development of cricket and
this award is a great endorsement for Mark
Clifford who leads the scheme and everyone
Nottinghamshire's community commitment
featured prominently in their Ashes bid
document and the award of the club's
preferred package will serve as a springboard
"We are already making plans to ensure
that we harness the legacy opportunities
presented by 2013 and 2015 Ashes Tests,"
"When we were awarded the matches there
was momentary celebration and then a stark
realisation that we have a lot of work to
do to grasp the opportunity that we have
The club's Marketing & Communications
team were praised for maintaining
excellent media facilities and high
standards of information delivery whilst
extending a friendly welcome to visiting
media professionals in accepting the
Best Media Management award. A total of
five nominations in 10 categories helped
to secure the Best Commercial & PR
Chief Executive Derek Brewer, Deputy Chief Executive Lisa Pursehouse and
New Media Manager Chris Botherway attended the awards ceremony at Lord's.