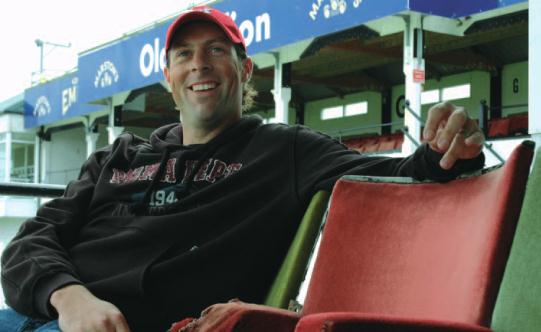 Swann and all-rounder Stuart Broad, have
proved more than a match for the Aussies,
winning the 2009 series at home and then
dominating for 2010/11 series for a first
victory 'down under' since 1987.
And Trescothick has no doubts about how
Andrew Strauss's men will have felt on
hearing that Trent Bridge had been chosen
for the next two Ashes series.
"All theguys intheEnglandsquadwillbedelighted
thatTrent Bridge is a venue," said Marcus.
"It has a great atmosphere and the ground
has a homely feel with a fiercely partisan
crowd.You've also got a nice blend of young
and old with the traditional pavilion and the
"On the field, the pitch is good to bat on
in Test cricket – and probably a little easier
than batting in county cricket as it is built
to last five days. Batsmen should beware
though as there is always something in it for
While we shall have to wait and see whether
the next two Ashes Tests at Trent Bridge
can live up to the incredible heights of
2005, one thing is certain. Tickets for this
historic encounter sell like hot cakes and
I'll be at the front of the queue to get one.
TRESCOTHICK's batting average
in ashes tests AT TRENT BRIDGE