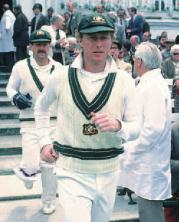 1956 (Match drawn) Australia were set a
victory target of 258 following two England
declarations but rain left them with just four
hours to complete it and they elected to play
1964 (Match drawn) Persistent rain left
the players in the pavilion for 14 hours of
playing time in the game which marked Geoff
Boycott's England debut. In a display of
sportsmanship that might raise an eyebrow in
modern encounters, Wally Grout declined to
remove the bails for what would have been a
routine run out after England bastman Fred
Titmus collided with the bowler in attempting
1972 (Match drawn) Ray Illingworth bucked
an established trend by becoming the first
English captain to invite the opposition to bat
first in a Trent Bridge Test. Hundreds from
Keith Stackpole and Doug Walters helped
Australia to establish a platform but England
held on for a comfortable draw.
1977 (England won by seven wickets) Ian
Botham's England debut also marked Geoff
Boycott's return from self-imposed exile as
England secured their first Ashes victory at
Trent Bridge since 1930. The appointments
of Mike Denness and then Tony Greig as
England captains, a commitment toYorkshire
and the pressures of Test cricket had all
been cited as possible reasons for Boycott's
international strike but he demonstrated his
worth with 107 and 80 not out in this match.
1981 (Australiawon by fourwickets)Australia,
led by captain Kim Hughes, emerged
victorious in a low-scoring game (179 and
132/6) in which only Allan Border and Mike
Gatting secured half-centuries. Dennis Lillee
took eight wickets in the match to move to