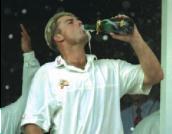 and explaining the steps we had taken to
make improvements where they had been
deemed necessary. We examined in depth
how our loyal base of international ticket
buyers has helped us to maintain healthy
crowds regardless of England's opposition,
the time of year and the format of the game.
We explained our investment in our media
facilities and justified the emphasis we place
on the comfort of those opinion formers
who relay our matches to a global audience.
We provided detailed examples of our efforts
to ensure that the rights of commercial
partners were delivered and explained
how our desire to position Trent Bridge as
England's friendliest venue informed every
interaction we have with those who visit us
In addition to explaining these core
elements of our delivery we were invited
to demonstrate political co-ordination
and support. Our work to bid for and
subsequently host ICC World Twenty20
matches in 2009 had fostered firm links
with our local authorities and tied a series of
community milestones to a funding package
that had allowed us to pursue an ambitious
redevelopment ahead of the tournament.
In return for funding for the 2008 ground
redevelopment we made a series of promises
to our three local authorities, committing
ourselves to tackling deprivation in
challenging areas. These loans contributed
to the building of a new stand and the
installation of permanent floodlights and a
giant replay screen. Since that commitment
was made, we have redoubled our efforts
in the community and delivered tangible
results, most notably in Cotgrave where
our Positive Futures scheme helped us to
secure the ECB Award for Best Community
Programme for the second successive year.
We also received plaudits for the unique
make-up of our public/private sector
partnerships which had secured prestigious
partnership awards from the Local
Government Chronicle and the Municipal
Importantly, we delivered on the promises
we had made which served to strengthen
our collective resolve to attract more major
matches to our conurbation and to use them
as a source of civic and community pride.
Against that backdrop, the support we
received for our Ashes bid was fantastic. We
received letters and video testimonies from
nine of Nottinghamshire's eleven Members of
Parliament, private sector businesses endorsed
independent calculations of the economic
impact of Ashes Tests and local authorities
spoke in glowing terms of the media values
garnered by the global broadcasting of cricket
What had begun as Trent Bridge versus
Edgbaston, Old Trafford, The Rose Bowl
and The Swalec Stadium had become
Nottingham versus, Birmingham,Manchester,
Southampton and Cardiff. Our city, county
and regionhadunitedbehindus andultimately,
the strength of these partnerships, fostered
through a collective recognition of the benefits
we all derive from hosting major matches
had provided a story compelling enough to
convince the ECB that we were worthy of the
In our final presentation to the Major Match
Group at Lord's, Iwas joinedby ourChairman
Peter Wright, Deputy Chief Executive
Lisa Pursehouse, Community Sports
Trust Manager Tracey Francis and Head
of Marketing & Communications Michael
Temple. Even in meeting the members of the
MMG, it was impossible to garner a sense of
where we stood in the process.
Waiting in my office for the call to come
through on 22nd September was a strangely
surreal moment. So much time and effort
hung on one short telephone call.
We all felt real pride in the outcome but
we also recognised that the hard work was
about to start. A team and partnership
approach had won the day.
We allowed ourselves a couple of days of quiet
reflection then it was on with the job to make
it all happen. Many challenges lie ahead in
this, the toughest of economic climates but we
all have the most fantastic opportunity.
SHANE WARNE'S CHAMPAGNE MOMENT IN '01